Spring Training: The 2017 R-STS
Date:
Saturday, March 4, 2017 - 8:30am
Need help with registration? Instructions are here.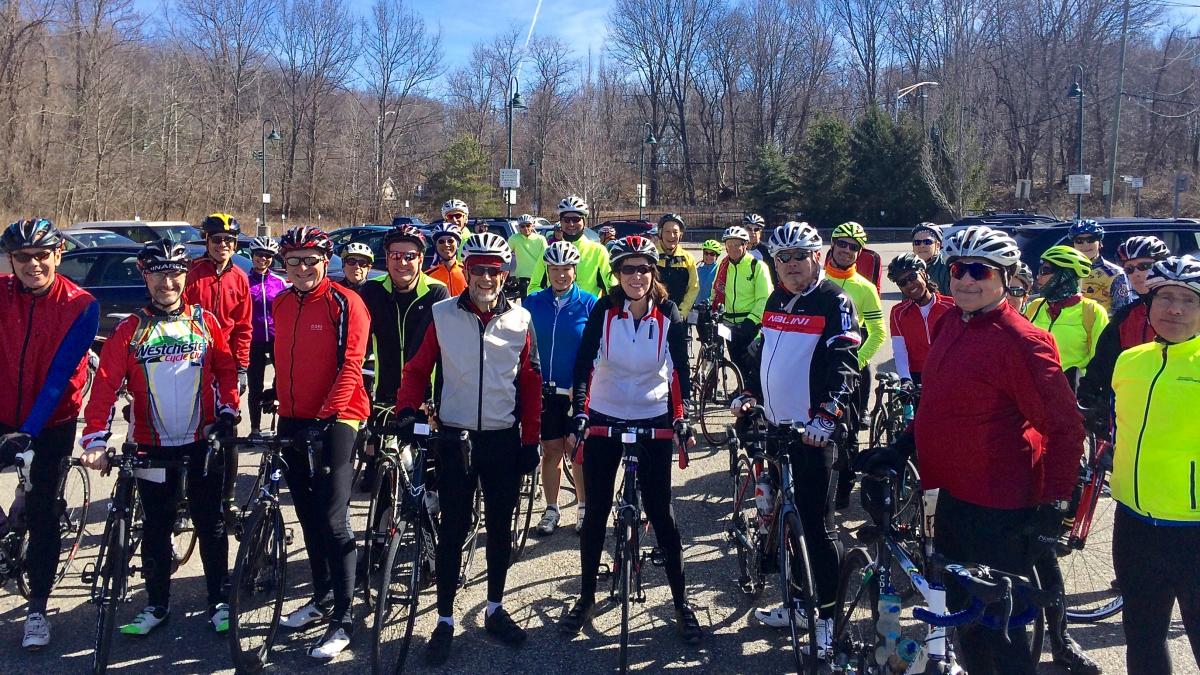 R-STS and Westchester Cycle Club, March 2016.
R-STS 2017 is an 11-ride series for experienced B-riders that expands route selection beyond the GWB>Nyack>GWB corridor. This is the R-STS' third year.
Dates: Saturdays, March 4 through May 13. Sunday is the rain date.
Routes: Adventuresome fare that will include Suffolk, Putnam, Dutchess, Orange, NY and Fairfield, Litchfield, CT. Distances will progress from 45 to 125 miles with climbing between 30-70' per mile. The series will include one event co-listed with Westchester Cycle Club and two events hosted by Long Island Randonneurs: the Jones Beach 100K on April 15 and the Ronkonkoma 200K "graduation ride" on May 13.
Food Stops: We take great pride in our food stops. They include Mediterranean, Brazilian and American BBQ and brick-oven pizza.
Gear: Any decent road bike, cyclocross, touring, hybrid, recumbent (etc.) that's in good repair and with which you can maintain the pace will do. No aero bars. Deep gears recommended if you are a B-15. Recommended, but not required: 25mm or wider tires for back roads and the occasional hard pack; some handlebar or seatpost storage; permanent or removeable fenders. Lighting and reflective gear will be required for the Ronkonkoma 200K. No aero-bars. You'll need to obtain a Metro North/LIRR bike pass.
Who: Intended for SIG graduates and comparably experienced cyclists. The R-STS will encourage safety, preparation and efficiency. Participants will be expected to assist on organizing two (2) rides. Social skills always appreciated.
Size: The group will be limited to a dozen (12) riders. Open spots will be posted on regular ride listings.
Riding: We follow B-SIG group riding protocols, but not pacelines. Expect to break out into slower (15) and faster (17) groups.
Drop Policy: While we ride cooperatively and help each other out, but if you go off the front or back, you should be prepared to navigate the route on your own.
Time Commitment: We do not have a formal absence policy, but we expect you to make good faith effort to participate in the series and to maintain conditioning if you miss a week.
Series Organizer: Neile Weissman is a veteran ride leader and planner, having led over 500 rides for the Club. Neile was Routemeister and B-Ride Leader of the Year and is a former two-time NYCC President.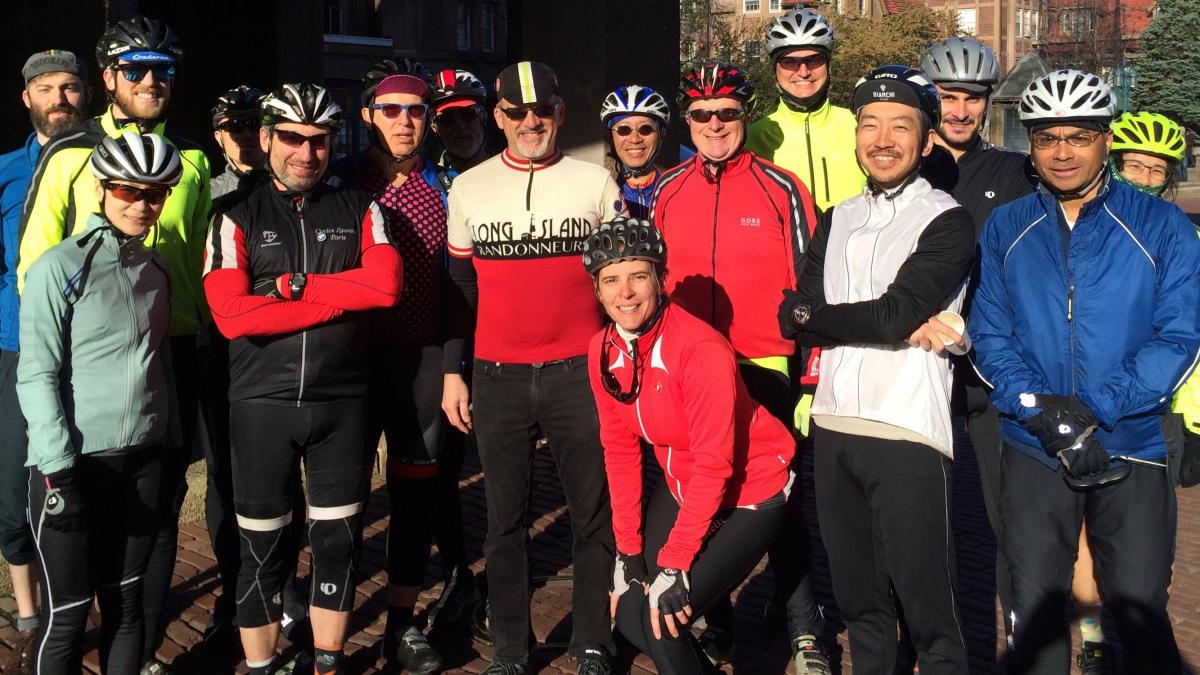 R-STS and Long Island Randonneurs, April 2016.
Spring Training: The 2017 R-STS