2017 NYCC Board of Directors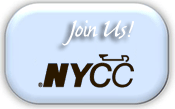 Founded in 1936, New York Cycle Club is the largest such club in the city, an all-volunteer recreational cycling organization that offers its 2,000+ members rides at all pace levels, weekend trips, a nationally recognized spring training program, monthly meetings featuring important speakers in the field, a full calendar of special events, in a friendly environment where you'll meet other, like-minded cycling New Yorkers.
Become part of our vibrant NYCC cycling community, get in shape, make new friends and explore the most beautiful routes in the tri-state area.
Member Benefits
As a member, you will have access to:
Well planned, member-led rides throughout the year.
Our highly regarded SIG/STS spring training series.
Destination weekends of riding in the Berkshires for Memorial Day weekend and West Point over the July 4th weekend, and our annual All-Class and Newcomers Rides.
Monthly Club meetings featuring presentations from cycling industry experts.
Discounts at numerous local NY/NJ area bike shops
Access to a large and valuable ride library
Opportunity to socialize with members at Club picnics, social outings, outdoor events and much, much more.