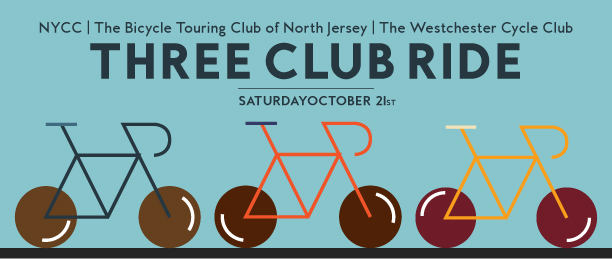 Come make new riding buddies on the first ever Three Club Ride, which will bring together riders from NYCC, The Bicycle Touring Club of North Jersey, and The Westchester Cycle Club! This event will be held on Saturday, October 21, 2017.
We will have routes available for A, B, and C riders, all starting from Ross Dock on River Road. We will provide a list of nearby lunch options in Tappan for your convenience.
The ride will be a great opportunity to ride with some people we don't usually get to ride with and incorporate some greatest hits destinations along the Bergen-Rockland corridor.
If you're interested in being a ride leader, please contact Jerry ([email protected]) or Gabby ([email protected]). And please keep an eye out for ride listings!