Date:
Tuesday, May 23, 2017 - 6:00pm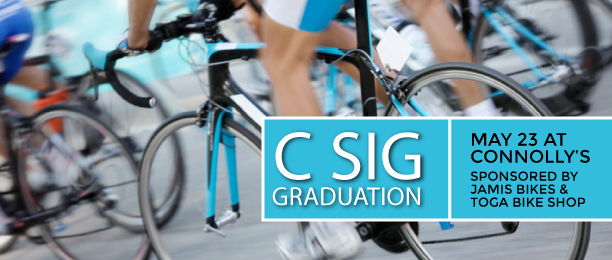 Event: C SIG Graduation Meeting
Date: May 23, 2017
Location: Connolly's Bar & Restaurant, 14 East 47th St. (2nd fl.) (bet. Madison and 5th Aves.)
*Please note this meeting is at Connolly's on East 47th - not the regular West 45th St. location
Please join NYCC in congratulating our new 2017 C SIG graduates in a celebration of their significant and hard earned achievement. This meeting is one the most festive, fun events of the entire year for NYCC. Whether you are a current C SIG graduate, a SIG leader, a prior SIG graduate, a STS participant or a club member thinking of doing the nationally renowned SIG, etc., we want you to help us cheer for our new SIG graduates. We are pleased to announce that our friends at Jamis Bikes and Toga Bike Shop will be co-sponsoring this meeting with cool raffle prizes, highlighted by a FREE new Jamis Xenith Endura Sport carbon bike as the featured raffle prize.
Schedule:
6:00PM - dine, drink and schmooze
7:00PM – program
8:30PM - raffle

Jamis Bikes: Our Story
Our beginning dates back to 1937 and we are proud of our long lineage in American bicycle history and to be a close-knit family operation today. We believe in the greatness that bicycles bring to people's lives and we are committed to delivering the best possible product and experience to our customers. We are grateful to every one of our shops and owners, all of whom we consider to be family. The bicycle public at large is communal and to that end we support the notion of supporting your local bicycle shop. We are all one community...and family.
Raffle Prizes:
XENITH ENDURA SPORT (featured prize) - MSRP $1,799
6 FREE Gran Fondo NJ Entries
Note: Jamis Bikes is offering a 10% discount for NYCC members on any Jamis Bike purchased at Toga Bike Shops.
Connolly's/NYCC Beer Happy Hour
Connolly's/NYCC Beer Happy Hour will include the following beers for the entire duration of our meeting (6:00 - 9:00 PM) and will be available for purchase at the discounted price of $6.00 :
Bass Ale · Sam Adams · Connolly's Red or Wheat · Yuengling