DATE CHANGE: March 21...March Club Meeting
Date:
Tuesday, March 21, 2017 - 6:00pm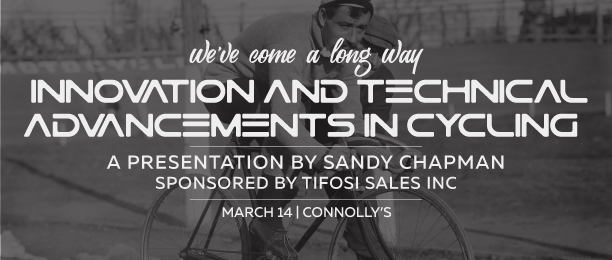 **Please note that due to inclement weather, the March Monthly Meeting has been moved to Tuesday, March 21st**
Event: Innovation and Technological Advancements in Cycling
Date: March 21, 2017
Location: Connolly's Bar & Restaurant, 121 West 45th St. (3rd fl.) (bet. 6th Ave. & Broadway)
Program: A presentation by Sandy Chapman, sponsored by Tifosi Sales Inc.
From its inception, the simplicity of design has been what's captured the hearts and soul of many cycling enthusiasts. While the basic elements have not changed much; materials advancements, electronics and so many other innovations have found their way into cycling creating a dizzying array of new products with features that beg the question: "How will this make my ride better?" Sandy Chapman of Tifosi Sales will attempt to address these new advancements including: disc brakes on road bikes, carbon wheels, electronic shifting and power meters.
Tifosi Sales represents brands that are established and recognized as leaders in quality, design and innovation in the cycling industry: Assos, SRAM, Thule and Silca
Note: Although all interested members of the cycling community are cordially invited to attend, only club members will be permitted to participate in our free raffle
Raffle Prizes:
Assos t.milleshort_s7 (men's bib shorts) - retail value: $159.00 OR Assos h.laalalai-s7 (women's bib shorts) - retail value: $249.00
Silca t-Rachet + Ti-Torque Kit - retail value: $98.00
Zipp Transition 1 Gear Bag - retail value: $165.00
(6) 2016 ENY prize packages, including: 2016 ENY jerseys, 2016 ENY string back packs and 2016 ENY socks.
Schedule:
6:00PM - dine, drink and schmooze
7:00PM – program
8:15PM - raffle
Connolly's/NYCC Beer Happy Hour
Connolly's/NYCC Beer Happy Hour will include the following beers for the entire duration of our meeting (6:00 - 9:00 PM) and will be available for purchase at the discounted price of $6.00 :
Bass Ale · Sam Adams · Connolly's Red or Wheat · Yuengling
It boils down to one thing: Passion
We don't just sell the stuff.
Tifosi Sales Inc., is a manufacturer's representative organization covering the eight-state mid-Atlantic region including the Metro New York, Philadelphia, and Washington DC markets. We call on: specialty sporting goods; IBD; outdoor, and specialty ski retail accounts. Tifosi Sales Inc. currently represents a select number of industry leaders in technical and lifestyle apparel, automobile racks, energy food, high-end bicycles, framesets, and functional accessories and components.
Vendor sales managers consistently rate Tifosi Sales as a top national producer. Retail accounts value Tifosi Sales for our technical knowledge, marketing expertise, sales training skills and management support services.
Since 1986, Tifosi Sales Inc. has built on a solid foundation of long-term relationships and focused support of our vendors and retail accounts. Contributing to our success has been the depth of industry-specific experience of the principals in retail sales, store management, technical event support, whole-sale sales and sales management. We're known throughout our territories as a responsive and knowledgeable resource. Tifosi Sales is frequently called upon for advice: by retailers, for market trends, store layout and design, and management controls; by vendors, on product specifications, sales strategies and program design.
And, just in case you wondered… "Tifosi" roughly translates from the Italian, "fanatic". We hope you'll agree there is a bit of the fanatic in our way of conducting business: ours is a life-long love of the sport and a passion for excellence. We're grateful for the success we've attained over the years. We're excited by the opportunities we perceive for future growth. If you would like to know more about us we'd welcome your inquiry.
P.O. Box 157
Midland Park, NJ
07432-0157
201.493.1502

Sandy Chapman, President
With over thirty year industry specific sales, marketing and territorial management experience; Sandy has worked at every level from retail store management and sales, event promotion, OEM sales, technical event support to manufacturers sales representative. His successful racing career has spanned the early years of mountain bike racing as a NORBA pro through masters level state championship TT titles. He's taught skiing as a certified Professional Ski Instructor of America. Sandy established Tifosi Sales Inc. in 1986 as a service oriented multi-line independent sales organization. He is the founder and past president of the Eastern Bicycle Sales Representatives Association as well as a charter member of JORBA (Jersey Off Road Bicycle Association). Sandy is currently active in the development of a Safe Routes to School program in his local community as well as being a member of The NJ Bicycle Coalition, NBDA, The Alliance for Biking and Walking , and League of America.
DATE CHANGE: March 21...March Club Meeting