First Aid for Cyclists: What Every Cyclist Should Know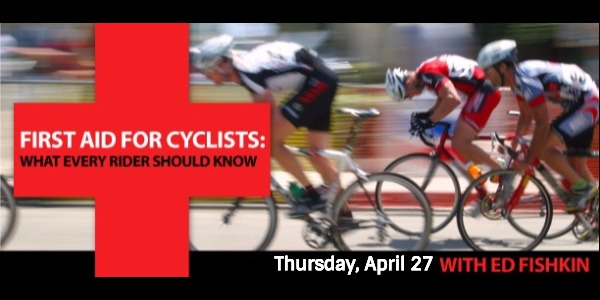 Every year for the past 20 (!) years, Ed Fishkin presents a fantastic program to the NYCC on First Aid for Cyclists. This year, the presentation will be on Thursday, April 27. Dinner will be provided. There will be a $20 charge -- but 100% of the proceeds go to support the Kids Ride Club. Attendees must pre register (so Ed knows how much pizza and chairs to order) and may do so by calling Ruth or Denise at (718) 963-8569.
We do all we can to prevent accidents. Nevertheless, accidents still occur.
This program will help riders, leaders and accident victims recognize and respond
appropriately to cycling emergencies and accidents.
The aim: to maximize chances for full recovery.
Woodhull Medical Director Dr. Edward Fishkin presents: First Aid for Cyclists

Date: Thursday, April 27

Time: 6:15pm

Place: Conference Center at Woodhull Medical Center

Address: 760 Broadway, Brooklyn, NY. The hospital is located right at the Flushing Avenue stop on the J & M subway lines.

Buffet Dinner: 6:45pm - 7:30pm, $20 per person

Program: 7:30pm - 9:00pm
If you are having dinner, kindly RSVP to Ruth or Denise at (718) 963-8569