February 2016 Club Meeting - All About The SIG & STS
Date:
Tuesday, February 9, 2016 - 6:00pm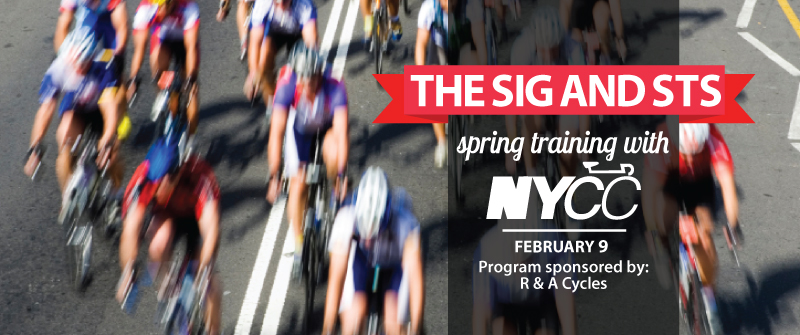 When - Tuesday, February 9, 2016 from 6:00-9:00PM
Where - Connolly's Pub & Restaurant, 121 West 45 St. (6th & Broadway), 3rd floor
Every spring, the New York Cycle Club offers hundreds of its members the opportunity to participate in our free progressive training programs, the SIG (Special Interest Group) and STS (Spring Training Series). Both programs―run by experienced ride leaders―will jump start your season and explore the wonderful cycling available in New Jersey, Rockland, Westchester and beyond, as well as welcoming you into the community of NYCC.
Connolly's/NYCC Beer Happy Hour
We are thrilled to announce a new Connolly's/NYCC Beer Happy Hour (which will continue through the entire length of our meetings), from 6:00 - 9:00 PM. The following beers will be available for purchase during the Beer Happy Hour at the discounted price of $6:
Bass Ale · Sam Adams · Connolly's Red or Sweet · Yuengling
Note: A huge thank you from NYCC to Connolly's for their generosity and also to Karen Burman for conceiving of the special Happy Hour and finalizing the deal for our members!
Meeting Schedule (approximate times)
6:00PM - Drink, dine and schmooze
6:45PM - Program
8:15PM - Raffle
8:30 PM - Breakout groups for Q&A with SIG/STS Coordinators
This is your chance to hear directly from the Coordinators of the A-SIG Classic, A-SIG, B-SIG, C-SIG, A-STS, B-STS, C-STS and R-STS and meet some of the ride leaders of each program. In addition to the speaking program, the captains and leaders will be on hand for questions.
Click here to find out more about our SIG and STS programs!
While you don't need to be an NYCC member to attend this club meeting, you must be a current NYCC member (join / renew) to register and participate in the SIG and STS program. Online registration for the 2016 SIG and STS programs opens on Wednesday, February 10 at 7am.
Sponsored By

105 5th Ave.
Brooklyn, NY 11217
Web site: racycles.com
Phone: 718-638-0479, 1660
Customer service: [email protected] Orders: [email protected]
Contact/General Mgr: Aldo Diaz
R&A Cycles has been a part and parcel of NYC cycling for 40 years. We service professionals, amateurs and weekend warriors alike. Our primary goal is to ensure every client will be 100% satisfied with their new machine. We provide unparalleled services from professional fitting to trained expert mechanics and knowledgeable sales staff. Founded by Philip Cabbad in 1976, R&A Cycles has quickly turned the years as the flagship pro bike shop for professionals and enthusiasts all over the world. Please come visit our retail location in Brooklyn's Park Slope neighborhood and see the largest collection of bikes and parts that you could find anywhere.
Raffle Prizes
1. Featured prize
complete Capo R & A kit includes:
R & A team unisex black full zip jersey - $99.99
Matching black bib shorts - $169.99

2. R & A unisex arm warmers - $49.99

3. R & A short finger gloves - $ 49.99

4. R & A team cycling cap - $ 19.99

5. Unisex black socks - $15.99

6. Capo unisex knee warmers - $39.99

7. Unisex leg warmers - $43.99

8. 2014 Catlike Leaf Helmet - $77.00

9. 2014 Catlike Vacuum helmet - $97.96

10. Doc's all natural chamois cream - $20.95

11. Continental Grand Prix 4000
700x23 Clincher Tire - $42.99
Note: You must be a club member to participate in the raffle
February 2016 Club Meeting - All About The SIG & STS