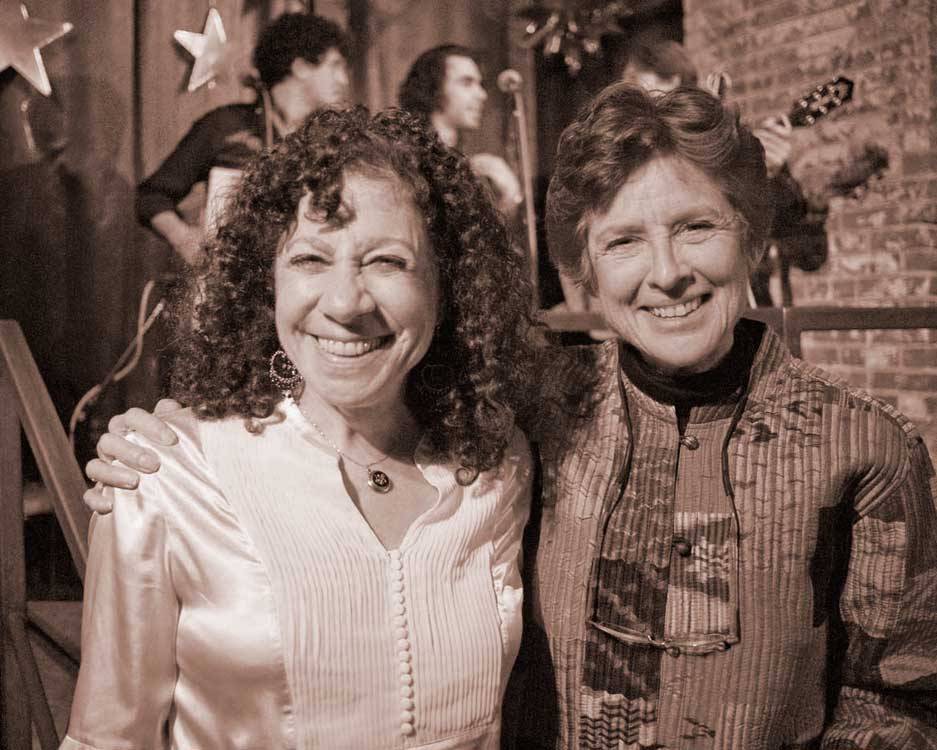 Linda Wintner (left) and Jody Sayler; Linda was inducted on December 12, 2011, at the Holiday Party
NYCC Lifetime Members
Louis Berardunucci
Herb Dershowitz
Edward Fishkin
Christy Guzzetta
Dan Henry
George Kaplan
Syd Lange
Chris Mailing
Gary McGraime
Peter O'Reilly
NYC Parks & Rec
Robin Read
Jody Sayler
Fred Steinberg
Jeff Vogel
David Walls
Irv Weisman
Linda Wintner
NYCC Lifetime Membership is granted to those whose undeniable contributions to NYCC over time have enhanced the Club.
While candidates are considered annually

by the Board of Directors, the honor is only granted on identifying a candidate whose work has shone in building the club over a number of years.
New York Cycle Club | Home
New to the Club? Here's What You Need to Know

Welcome to the New York Cycle Club!
We are the tri-state area's largest all-volunteer recreational cycling organization and offer our 2,000+ members:
Rides at all pace levels
Weekend trips
A nationally-recognized spring training program (SIG)

Monthly meetings featuring important speakers in the field
A full calendar of special events
A strong advocacy voice in metro and tri-state bicycling-related issues
Get in shape, make new friends, explore the most beautiful routes in the tri-state area and have a blast doing it!
Become part of our vibrant, friendly cycling community and enjoy the premium benefits of being an NYCC member today!
Want to know more about NYCC? Just click the links:
Submit Your Photos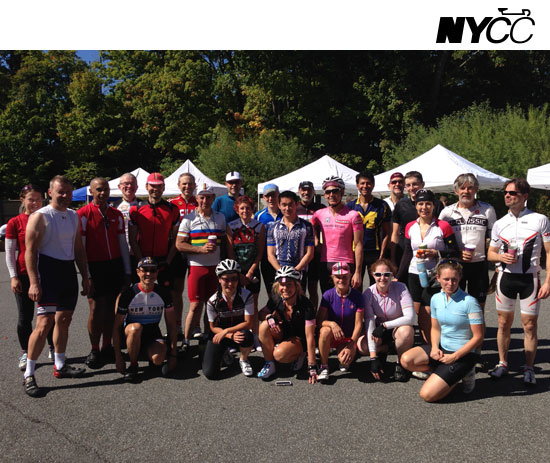 September 29, 2014
Submitted by Gil Yang
Ride to the Hungry Hollow Coop for its annual Farmers Festival.
Standing L to R: Sabina Eberle, Leigh Fanner, Clarence Bateman, Phil Jeffery, Nick Ursa, Robert Meyer, Christy Guzzetta, Ben Cameron, Jody Saylor, Pat Gallagher, Jeff Lin, Harv Bedi, Manolo Maldonado, Ajei Gopal, John Siemens, Brian Cantrell, Margaret Bania, Basil Ashmore, Vitaly Kerdimun
Kneeling L to R: Gil Yang, Akiko Ando, Judy Veszelovszki, Jackie Scalisi, Rachel Kastrinsky, Mim Gilbert
Not shown: Jitka Frajbisova, Kazu Kudo
---
NYCC would like to see your ride photos.
We will be featuring group photos that portray what we do; it is up to you, our members, to submit images and let us know how much fun you are having.
When submitting a photo, please ensure that you also include an appropriate description and a name for credit.
Please note that we cannot guarantee that your photos will be posted.
Name
Date
Time
Leaders
Level
Distance
Spots Remaining
Still Jammin'
Thu, Oct 2
06:00 AM
Matthew Payne
Juan Cruz
A /21-23
18 Miles
Unlimited
Thursday Morning River Road
Thu, Oct 2
06:15 AM
Anthony Grisafi
A /21-23
30 Miles
Unlimited
Later Laps
Thu, Oct 2
06:30 AM
Thomas Cirolia
A /20/21
18 Miles
5 of 8