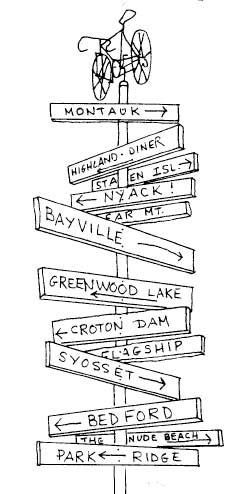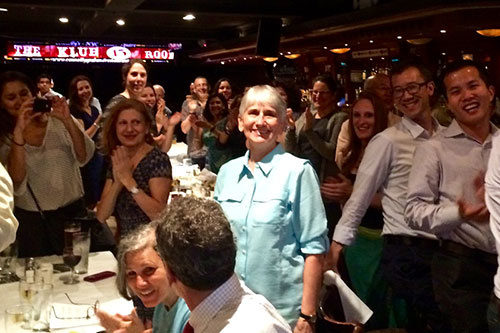 Carol Waaser receives her Lifetime Member appointment. Inducted June 9, 2015. Photo by Neile Weissman
NYCC Lifetime Members
Louis Berardinucci
Herb Dershowitz
Edward Fishkin
Christy Guzzetta
Dan Henry

Ellen Jaffe

George Kaplan
Syd Lange
Chris Mailing
Gary McGraime
Peter O'Reilly
NYC Parks & Rec
Robin Read
Richard Rosenthal
Jody Sayler
Fred Steinberg
Jeff Vogel
Carol Waaser
David Walls
Irv Weisman
Linda Wintner
NYCC Lifetime Membership is granted to those whose undeniable contributions to NYCC over time have enhanced the Club.
While candidates are considered annually

by the Board of Directors, the honor is only granted on identifying a candidate whose work has shone in building the club over a number of years.
Take a trip down memory lane and browse some of our past NYCC Club jersey designs.
Designs (in order) were done by Irv Weisman, Mike Samuels, Tony Nappi, Mike Toomey, Richard Rosenthal, Viviane Tubiana, Lisa Lurie and Ellen Jaffe.
Clothing from the collections of Christy Guzzetta, Bill Vojtech, and Jim Galante. Photos by Jim Galante.