Cycling Protocol for Central Park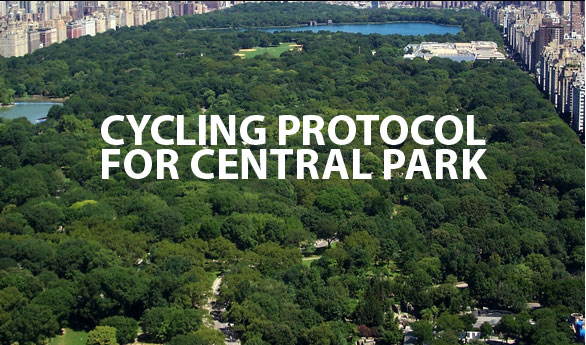 Jointly developed by the New York Cycle Club and Century Road Club Association, this protocol is a guideline for cyclists training in Central Park.
Cycling Protocol for Central Park
1. Ride a straight line and under control.

2. Ride at a speed that is safe for that density of pedestrian traffic.

3. Always yield to pedestrians. If there are pedestrians
in or entering the crosswalk always slow or stop at a
red light.

4. When passing runners, walkers, slower cyclists and
other park users always allow several feet
of clearance.

5. Reserve fast training rides for the hours of 5:00 am
to 8:00 am.

6. Keep training groups small and organized.

7. Consider a bell and the addition of a front and rear
light after dusk. Both are the law.

8. Slower cyclists stay left. Pass on the right when safe to
do so.

9. Never ride in the runners' lane.
10. Be alert. Be conscientious. Be civil to all park users.
Remember the park is full of tourists and locals who
do not know the rules.
Your actions and behavior will determine our future use of this precious resource.
Remember, we are all ambassadors for cycling now.
NYCC 'coin' graphic by Rolando Felix. Page Design by Cathline Marshall.