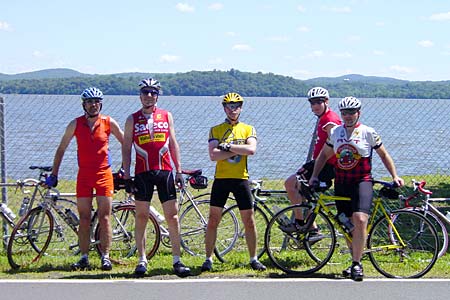 Saturday, July 3, 2004, everyone met in Central Park, dropped a bag in a luggage shuttle and rode up to West Point. Saturday night featured a boat cruise on the Hudson. On Sunday rides of various distances and levels engaged the day, while in the evening we attended the West Point July 4th concert and fireworks. On Monday, many rode back to Manhattan. Others, discouraged by rain, took Metro North back.
Click on the links at right for photos and more details of a great weekend.
Photos: Timothy McCarthy and Ed White.
1. Quarry, boat ride
2. Breakfast, preparing to ride
3. Riding, Goshen
4. Goshen, Storm King
5. Picnic, music, fireworks
6. Ride home, bag pickup