Unsung Benefits of Bicycling − Beyond 2012
Date:
Tuesday, January 10, 2012 - 6:00am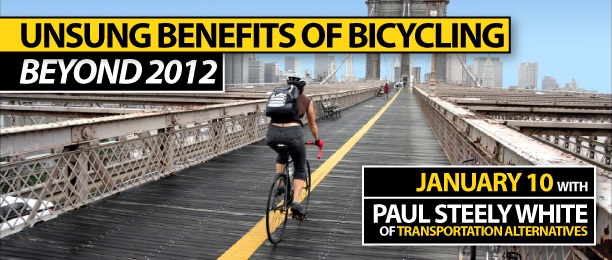 ARE YOU A STAKEHOLDER IN THE FUTURE OF NEW YORK CITY?
If your answer is yes, you must attend Tuesday's Club meeting.

Paul Steely White, Executive Director of Transportation Alternatives, will tell us how it is in the battle over New York's future.

The stakes have never been higher.

For the Unsung Benefits of Cycling have everything to do with making our city a liveable and sustainable place of quality public space, street safety, and effective mass transit.

Right now, TA is focused on:
Growing Bicycling

Safe Streets for Bicyclists and Pedestrians

Car-Free Parks

NYC Streets Renaissance of Public Space

The Rider Rebellion to Improve Mass Transit

Parking Reform

Vision Zero NYC Equals Zero Deaths, Zero Injuries, Zero Fear of Traffic
If you want insight on the battle for the city's future and how the

administrative turnover at City Hall in two years will raise the stakes higher still, you should attend.



If you want to contribute to making this sustainable vision of our city a reality, you should attend.
* * *
20 attendees will not go home empty-handed!
We'll be raffling 20 packs of VeloShine Bike Wipes!
Veloshine Bike Wipes are the green solution for your bike − an environmentally friendly product and 100% biodegradable
* * *
Meeting Details
Date: Tuesday, January 10
Time: 6:00pm - 9:00pm
Place: Annie Moore's Bar & Restaurant (downstairs)
Address: 50 East 43rd Street (1/2 block east of Madison Ave)
Buffet Dinner: 6:45pm - 7:30pm, $20 per person
Program: 7:30pm - 9:00pm
If you are having dinner, kindly RSVP to [email protected]
Unsung Benefits of Bicycling − Beyond 2012