Date:
Monday, January 28, 2013 - 9:15am
Submit Your Photos
NYCC would like to see your ride photos.
We will be featuring group photos that portray what we do; it is up to you, our members, to submit images and let us know how much fun you are having.
When submitting a photo, please ensure that you also include an appropriate description and a name for credit.
Please note that we cannot guarantee that your photos will be posted.
April 1, 2013 - Photo by Neile Weissman
Girls and boys just want to have fun! Clockwise from the left Neile Weissman, Mordecai Silver, Fred Harris, Erica Jacobs, Margaret Bania, Michael Gorman, Gwynna Smith and Michael Notaro. Burger King manager wouldn't let us play, but did snap our photo. From USTS #2 - Babylon by Candlelight.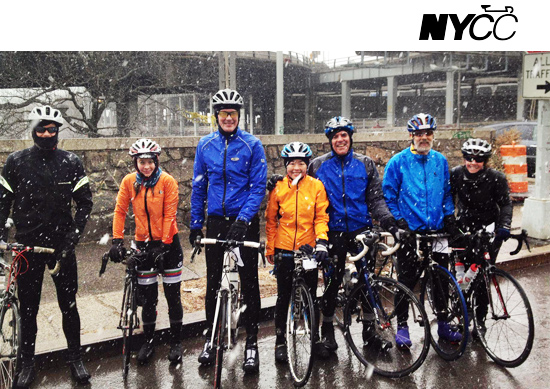 March 25, 2013 - Photo by Steven Venters. A Classic SIG Ride #3
Rode the last 20 miles and across the GW bridge in a snow storm. The visibility was so low, when in the middle of the bridge you couldn't see either shore or the water below.
Very eire, but great ride.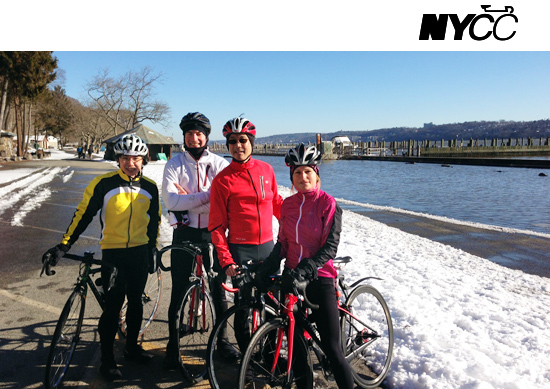 March 18, 2013 - Photo by Gil Yang.
Taken at a flooded Alpine boat basin parking lot on March 9th on the Early River Road and Bergen Fun Ride by an unknown pedestrian.

River Road was snow covered, but Alpine Hill was nice and clear after the Friday evening's snow storm.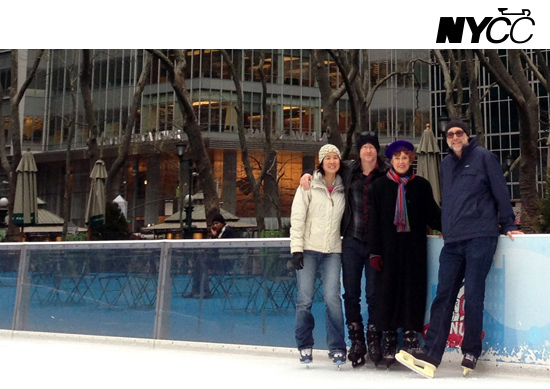 March 11, 2013 - Photo by Maggie Nguyen.
The winter morning cross training ice skating regulars
Maggie, Harry, Jody, John.
Take a break from doing laps in the park (Bryant park!)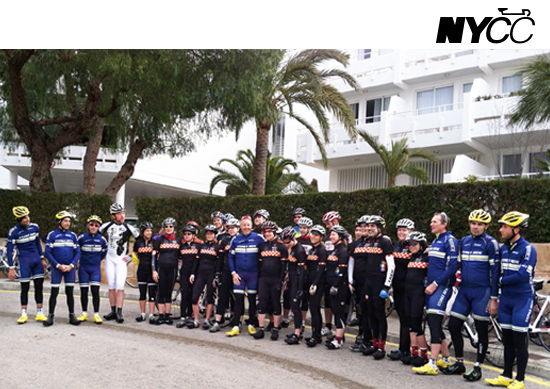 February 17, 2013 - photo by Claudia Kulesh.
Stephen Roche cycling camp in Mallorca, Spain, before our first day of riding. The 21 NYCC members are accompanied by Stephen Roche and other ride leaders.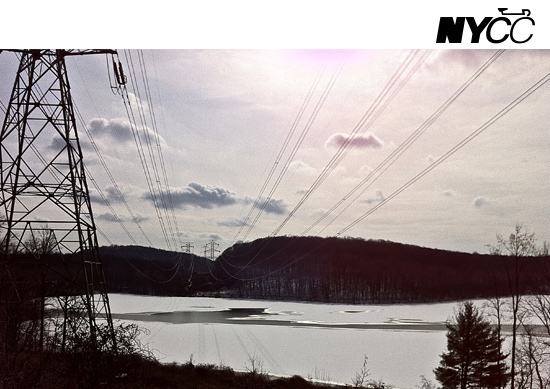 Photo by Neile Weissman.
From WTF! #5 - Ride Michael Home
Photo taken in front of Tavern on the Green on Feb 7th by unknown runner with Harv Bedi's iPhone camera.
It's 24 degrees, and the Thursday Morning FOBO (freezing our butts off) Ride ends just as the sun was rising over Central Park.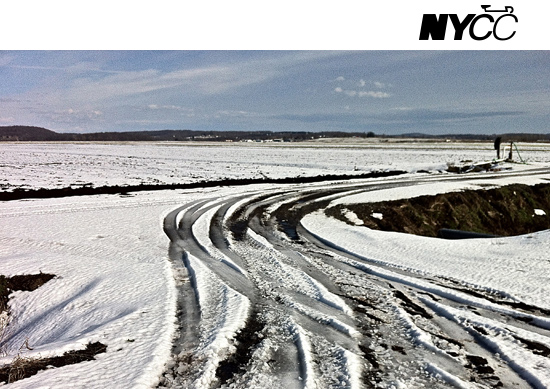 Photo by Neile Weissman
Cycling on the Moon? Nope, the otherworldly landscape is part of a network of tractor roads that comprise WTF#3 - Pine Island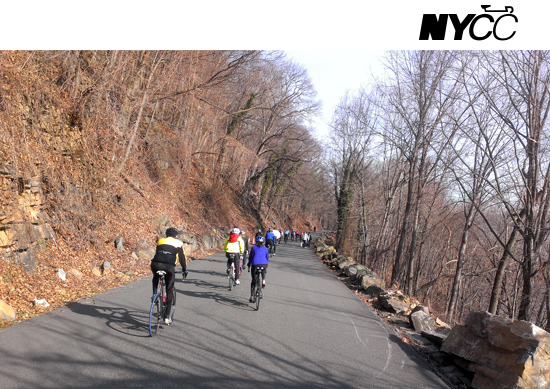 Jan 20, 2013 by Joseph E Grgic
Group on River Road during the Scenic Ride to Piermont
---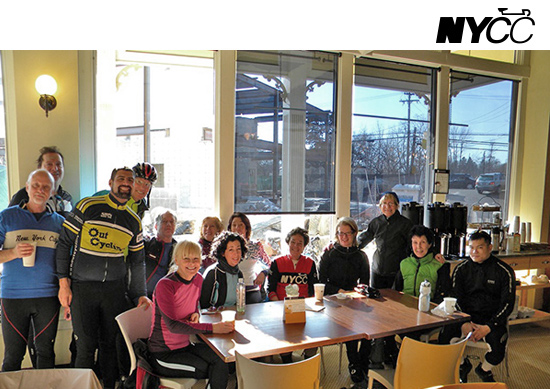 Photo by Eric Truman
---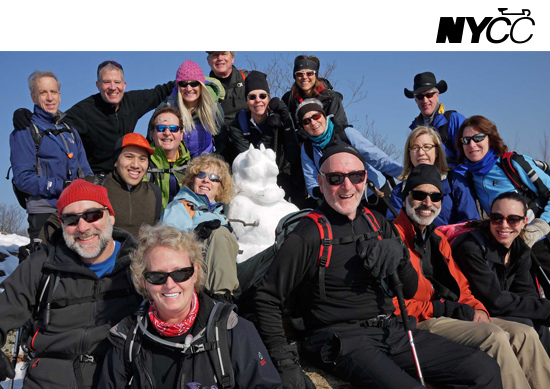 Jan 6, 2013 by Ellen K. Jaffe
Photo op with Snow Dragon ... on the Weissman's trek through Harriman last Sunday.