Date:
Friday, May 24, 2013 - 8:00am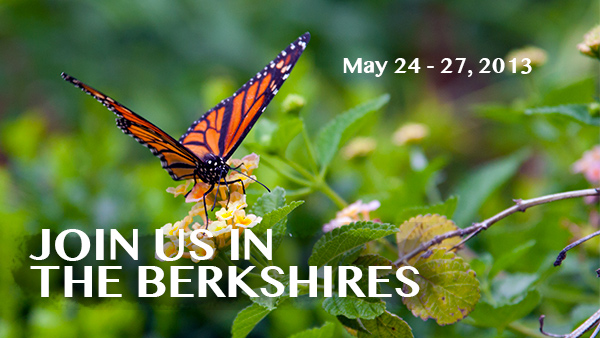 Don't miss out on the best spring time social event.
Announcing the new and improved Berkshire Sunday Night Party -
a new venue and new DJ.
>> Click here to see details and to sign up for the Sunday night party
May 24-27, 2013
As sure as spring turns to summer and the swallows return to Capistrano, the New York Cycle Club descends upon the Berkshire Hills and settles into the small towns of Sheffield, Great Barrington and destinations in between for the Memorial Day holiday weekend.
First known as "The Sheffield Weekend," this event has become so popular over the years and grown to encompass more of the vicinity that it is now called "The Berkshires Weekend."
Join us for 3–4 days of cycling through the beautiful country roads, farmland and of course the Berkshire Mountains. Rides are planned for A, B and C levels.
Sunday, May 26 NYCC Dinner Party
Don't miss out on the best spring time social event. Announcing the new and improved Berkshire Sunday Night Party - a new venue and new DJ.
Join your cycling friends and eat, drink and dance the night away. The party will be held at Crissey Farm.
There will be music and dancing by DJ David, and delicious food by the Crissey Farm caterers. The cost is $50 and includes a cocktail hour with a cash bar, salad, choice of entrees, dessert and coffee.
Sign up by May 18.
Where We Will Meet
Most A and B rides start each morning at Sheffield High School on Berkshire School Road in Sheffield.
Most C rides will start at in Great Barrington (location TBD).
Information Package
An information package will be sent to everyone the week prior to Memorial Day.
To ensure that each member of your party attending the Berkshires Weekend receives the information packet containing cue sheets and useful details for the weekend, please email berkshires@nycc.org with the who, where and email address of everyone in your party.
Knowing the who and where will also help us better plan the weekend.
If you are not planning to join us for the Club dinner, please send your email address to berkshires@nycc.org so that you can receive the information package.
Ride up on Friday
To maximize your riding opportunities, there will be rides from New York City to the Berkshires using Metro-North train to give us a head start to the country. Please see the ride listings for details of the rides.
Please note: NYCC will not provide an official luggage shuttle.
If you are planning to join us in the Berkshires by riding up, make sure you have transportation for your luggage, both going up and back.
If you are interested in providing a luggage shuttle, please send an email to berkshires@nycc.org.
Lodging
Participants make their own arrangements for accommodations. Depending on the class of ride you will be doing, you will want to stay in either Sheffield or Great Barrington (see "Where We Will Meet" above).
Accommodations vary from full service hotels to country inns to B&Bs. To view a list of accommodations, please click here.
Room shares are frequently posted on the NYCC Message Board.
Another possibility for lodging: The Southern Berkshire Chamber of Commerce, 413-528-1510
Hint: click on "Your Guide to Businesses, Attractions & Lodging," then in the input field of the page that opens type "lodging" and click "Execute Search".
To share lodgings or automobile rides to the Berkshires, feel free to post or respond to such posts on the NYCC Message Board.
---
Reserve a place to stay today. Book your favorite B&B in Sheffield or Great Barrington now before they are sold out! http://southernberkshirechamber.com/berkshire-bed-and-breakfasts.php.
After you make your reservations, send your email address to Berkshires@nycc.org so we can forward you the ride information when it is available in late May. New routes and new ride leaders are always welcome.
Let us know if you would like to help out this year. You make the weekend fun and exciting.
For further information, contact Reyna Franco at Berkshires@nycc.org.