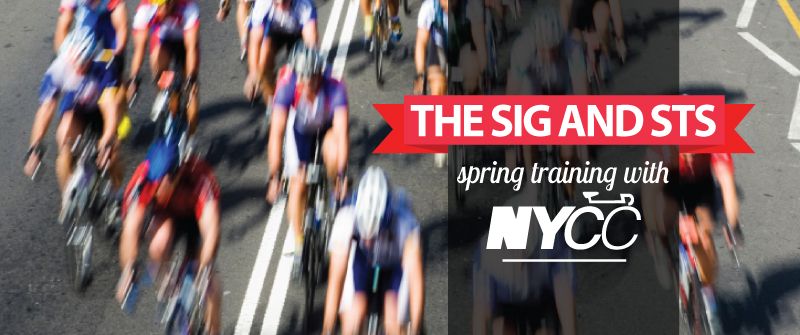 Every spring, the New York Cycle Club offers hundreds of its members the opportunity to participate in our free progressive training programs, the SIG (Special Interest Group) and STS (Spring Training Series). Both programs―run by experienced ride leaders―will jump start your season and explore the wonderful cycling available in New Jersey, Rockland, Westchester and beyond, as well as welcoming you into the community of NYCC.
SIG/STS 2016 announcements are coming in January
Save the date for the All-About-The-SIG/STS Club Meeting on February 9, 2016
Registration will open on February 10, 2016
Programs will start between late February and late March
The SIG
Designed for cyclists of all levels, the SIG is an immersive training series that teaches the skills required for safe group riding via 8-12 consecutive weekend training rides that increase in speed and distance. First formed in 1986 with 40 riders, the SIG has become the signature program of New York Cycle Club with thousands of cyclists having participated over the years.
Which SIG level is best for you? This chart provides an overview of how the A-Classic, A, B and C SIG programs compare to one another.
The STS
The STS is for experienced cyclists who have graduated a SIG program or possess equivalent group riding skills and want to improve their strength and endurance through a graduated training program. STS rides offer no instruction; they are simply a series of organized group rides with the friendly support of like-minded cyclists. This year the STS program will be offered at the A and B levels.
Please note: you may register for only one SIG or STS program.
Check back in mid-January for more details